Visit Titus at Interzum Guangzhou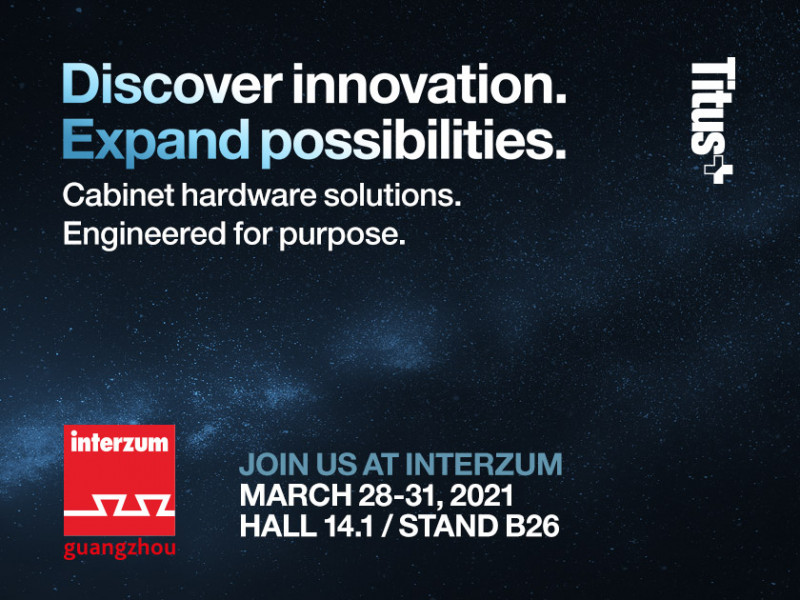 Visit Titus at Interzum Guangzhou
Interzum Guangzhou, Asia's leading furniture production trade show, is taking place on March 28-31, 2021. It is the preferred professional trade show for decision-makers of the industry from domestic and international.
Visit Titus stand 14.1-B026 for an inspiring, hands-on experience that showcases the latest Titus products, trends, and technologies. We will be displaying the fastest and easiest to mount hinge on the market in its version for corner cabinets: T-type pie-cut corner hinge; innovative TeraBlack range of products with highly uniform black matt surface, without any reflections, that complements all — standard and trendy — furniture designs in kitchens, bedrooms, living rooms, bathrooms, and office; Glissando TL3, a new generation of hinge add-on damper for soft-closing without compromising being the world's most efficient hinge damping device that allows for minimum portfolio complexity and maximum flexibility in use, and much more.
Welcome to Titus stand 14.1-B026 where you will meet a global brand with a true passion for engineering. See you on 28-31 March 2021!