SICAM Pordenone 2021 – Discover innovation. Explore possibilities.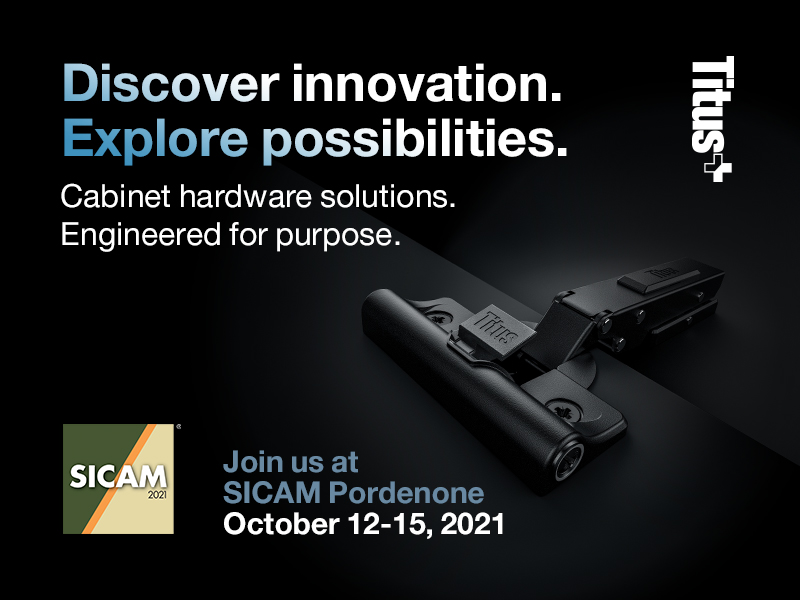 SICAM Pordenone 2021 – Discover innovation. Explore possibilities.
Discover innovation at Titus stand B44/C45 in Hall 2, at SICAM trade show where you will learn more about our unique products and other innovative solutions, from 12-15 October 2021, in Pordenone, Italy.
Come to SICAM show, stop by our stand and talk directly to our experts for key insights about our latest products, among which are:
TeraBlack - Great performance and style in one – TeraBlack is Titus' technical answer to the dark colour interior design trends in furniture and cabinet hardware. It is a unique black, non-light reflective matte and highly uniform surface finish. It is visually appealing, corrosion-resistant and durable with lasting good looks throughout the life-time of the product.
New System 6 connector family - performance-engineered connectors for simplified and easy cabinet assembly – new System 6 is an excellent choice for assembly in limited space where 'system furniture' is in place. It allows for easy and quick 'continuous building' by stacking additional elements, like in walk-in closets, wardrobes, storage systems and shelving units. It follows the modularity principle of this type of furniture with the possibility of adding or removing shelves and vertical dividers at any time and without the need of disassembly of whole cabinet frame (carcase).
New damping solution - damper for cold environment - we have launched a damper which successfully performs in temperature range as low as -30°C, maintaining a consistent damping in all conditions. Possible applications include 'cold environment products' like freezers, refrigerators, wine coolers, as well as wider application range in automotive industry.
Make sure to get your free ticket here.
We are looking forward to meeting you there!
For more information about Titus at SICAM 2021, click here.