Visit by Ambassador of Republic of Turkey in Slovenia, Esen Altuğ in Titus Dekani, Slovenia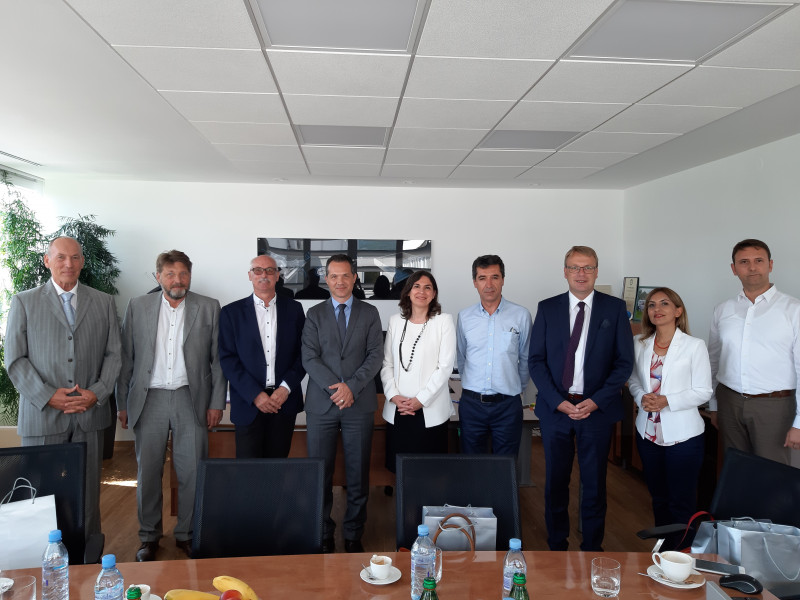 Visit by Ambassador of Republic of Turkey in Slovenia, Esen Altuğ in Titus Dekani, Slovenia
On July 3, 2019, Titus Dekani hosted H.E. Ms. Esen Altuğ, Ambassador at Embassy of Turkey in Slovenia, and her economic adviser in Slovenia, Ms. Gamze Doğan, together with the representatives of the International Co-operation Department at the Chamber of Commerce and Industry of Slovenia, Mr. Matej Rogelj, and the president of the Slovenia -Turkey Business Club SLOTUR, Mr. Srečko Pirtovšek.
The visit of the Turkish Ambassador took place during the annual meeting organized by Titus for a delegation of customers from Turkey, which runs from 2 to 5 July and is attended by thirty (30) representatives from twenty (20) companies. The visitors are from Titus's long-term Turkish partner Starwood, a furniture hardware distributor, and Starwood's customers, manufacturers of furniture. The purpose of this traditional annual event, the seventh in a row, is to present product novelties and innovations to customers, as well as strengthen the relationships with an informal gathering along with guided tours of the main tourist locations in Slovenia. For visitors, Titus traditionally organizes a boat trip along the Slovenian coast, a trip to the Postojna Cave and Bled. During the visit, the Ambassador had the opportunity to learn more about the company and visit the production facilities, then welcomed the visitors and listened to the business experiences of the Turkish companies.
Starwood is one of Titus's long-standing partners in the Turkish market. Titus initially entered the market with furniture fittings and has added to the product portfolio hinges, soft closing solutions for furniture and dampers for furniture hardware and white goods.
Titus expressed satisfaction with today's meeting, which further strengthens already good business relations with Turkish partners. Marko Korelc, Regional Sales Director SE Europe, Middle East & India at Titus, said: "Our DekaniZum home events are a great opportunity to strengthen relationships at several levels, since Titus continues to delight its business partners with constant product innovations and social events as we work together in solving challenges with the assembly of furniture or opening and closing of furniture elements. We are pleased to see that they intend to return to Slovenia for the next such gathering.'